SAME DAY DENTAL IMPLANTS
Dental Implant Specialists
A top UK clinic for dental implant treatments
From our superbly refurbished clinic in Maidstone, Kent, featuring surgeries with the latest dental equipment available, our team of highly qualified dental implant surgeons provide a range of treatments to meet your individual dental needs. From single and multiple implants to full arch, or 'same day dental implants', our solutions are designed to last a lifetime whilst providing a finished result that is far better feeling, looking, and functioning compared to a denture.
EASY TO REACH CLINIC
Just one hour on the train from London
Patients travel to us from London and across the south-east of the country as we provide an unrivalled clinical environment and standard of care. Whether you require a single implant, multiple implants, or the full arch same day dental implants, you can expect the same standard of treatment that we offer all our patients including:
An exceptionally high standard of care – from your initial consultation, throughout the procedure and in the follow-up aftercare.
A calming and luxurious treatment environment – we're based in a beautifully refurbished, 5-floor, grade 2-listed Georgian residence offering the very best in terms of facilities.
The latest dental technology available – all our surgeries are fitted with state-of-the-art equipment, enabling our surgeons to deliver the best possible treatments.
Peace of mind – our highly experienced team of implant surgeons, hygienists, nurses, and support staff work together to deliver successful dental implant treatments day in, day out.
Friendly and supportive team – we will put you at ease from the moment you contact us and continue to provide support after your treatment is complete.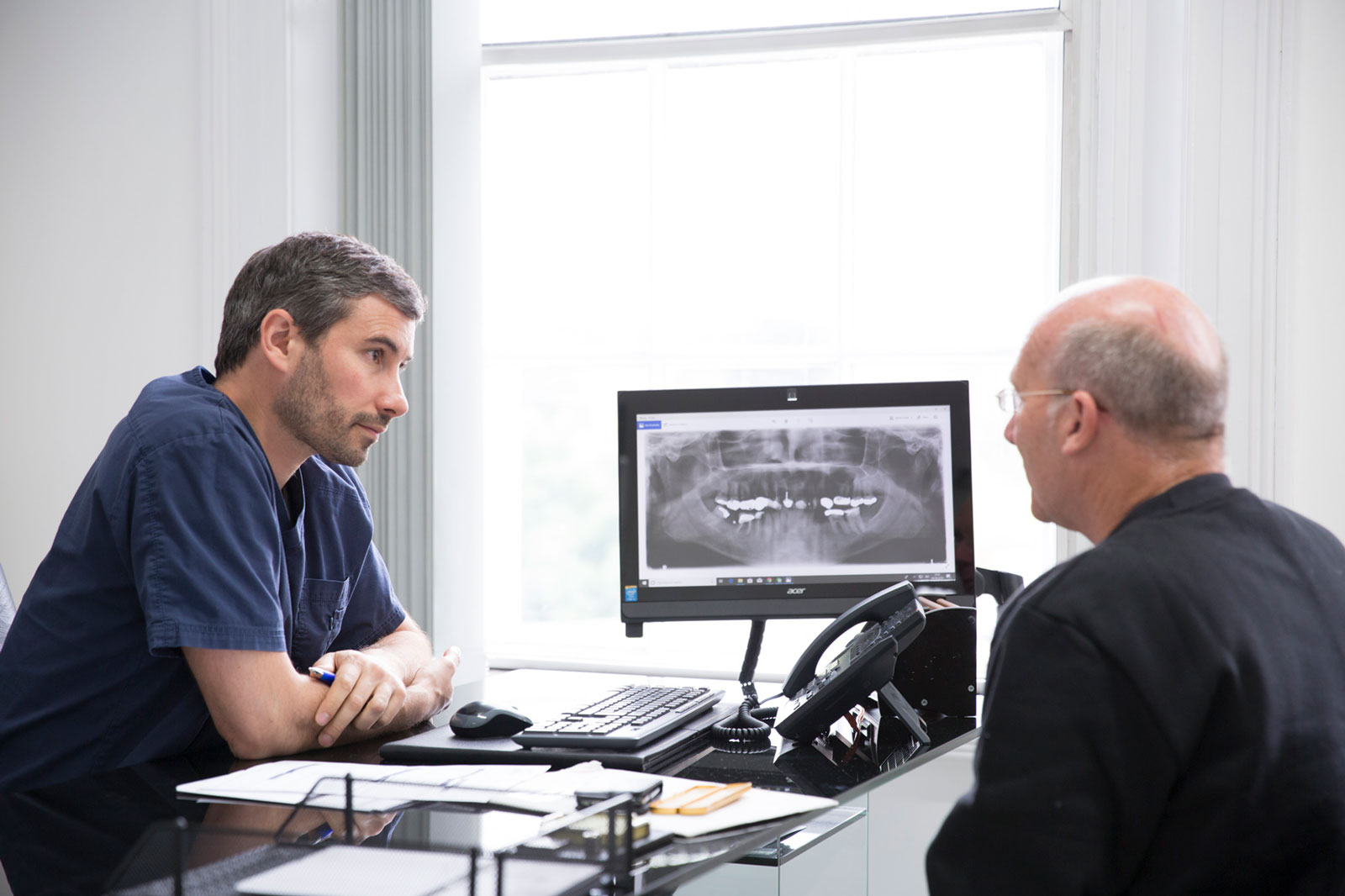 Our dental implant treatments
Dental implants are the closest you can get to your own natural teeth. They are the perfect solution for anyone who has suffered due to having loose dentures or would like a tooth replacement system that is both cosmetically advanced and comfortable.
Whilst we will assess your requirements in detail in the initial consultation, typical dental implant treatments that we offer include:
Full Arch or Same Day Dental Implants
Full arch treatment, sometimes referred to as 'same day dental implants', 'all on 4 implants' or 'teeth in a day', is a complete set of replacement fixed teeth in either the upper or lower jaw, using only four implants, in just one visit.
The procedure can be carried out either under sedation or under local anaesthetic, and the selected teeth are replaced with four to six implants that are surgically fixed into your jawbone. We can replace a conventional removable denture, remove failing teeth if required, place implants and fit a temporary fixed restoration all in one day, hence the name 'same day dental implants'.
Multiple Teeth Dental Implants
If you don't require the full arch to be replaced and instead have missing or failing adjacent teeth, our multiple teeth treatment option may be the solution that you require. A multi-implant bridge represents a better, and usually more affordable answer, because you will need fewer implants than the number of teeth you are replacing – 3 or even 4 new teeth will often only require two implants.
Like the full arch treatment, a multiple teeth implant treatment can be completed within a day without you having to take any additional time off work after the procedure.
Single Teeth Dental Implants
If you are missing one tooth, a single implant treatment is the next best thing to the natural tooth that you lost. It feels and looks much better than a bridge and, like the full arch and multiple teeth treatments, is completed on the same day that you arrive.
Replacing a single tooth with this method will likely last you a lifetime, whilst restoring your confidence.
Meet our dedicated team
Our single, multiple, and full arch same day dental implant treatments are delivered by a highly experienced team of expert clinicians. Click on the profiles below to find out more.
Meet our dedicated team
Our single, multiple, and full arch same day dental implant treatments are delivered by a highly experienced team of expert clinicians. Click on the profiles below to find out more.
Frequently Asked Questions
What is a single tooth dental implant?
A single tooth implant is designed to replace one tooth using a titanium screw which is placed in the bone of your upper or lower jaw.
What are multiple teeth dental implants?
A multiple teeth implant treatment is similar to a singe tooth treatment but involves joining two or more implants together.
What are same day dental implants?
Same day dental implants are a full arch of replacment teeth using just four implants and carried out in just one visit to the dentist.
3 Ashford Road
Maidstone
Kent
ME14 5BJ
GENERAL INFORMATION:

Opening hours:
Monday - Friday 08.45 - 17.15